IOA Launches new "Grow Organic" scheme
IOA Webmaster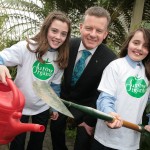 IOA launched its new scheme "Grow Organic" in the fabulous environs of the National Botanic Gardens in Glasnevin today. The scheme offers support and help to people who want to learn how to successfully grow organic vegetables.
Director of the Botanic Gardens Dr. Peter Wyse Jackson stated how important it is to educate people to grow their own food. The Vegetable, Fruit and Herb garden in the Botanic Gardens is a wonderful demonstration garden and it is currently undergoing organic certification. "Good quality compost is the key in organic gardening and we have a large composting facility here in our garden which is essential to fertilise the soil".
Trevor Sargent TD, also spoke enthusiastically about getting people involved in growing their own food. "People who grow their own food do one of the most important jobs that there is. It is a great service to the community and we need to encourage more people to get involved in growing food at a commercial level. However there is also a role for everyone in becoming more self sufficient, therefore it is great that IOA have introduced "Grow Organic" to get people started in growing their own food". As an ardent organic gardener himself Trevor went on to say that growing your own food really makes a difference in quality, taste and freshness, "As one of the girls from Scoil Aine in Clondakin said to me she didn't like strawberries until she started growing her own!".
Dr. Sinead Neiland Chairperson of IOA stated "IOFGA's main business is certifying commercial organic producers and processors however over the years we have given advice and assistance to people starting organic gardens around the country so we are delighted to introduce this scheme to encourage more people to get started growing their own organic food". Interest in growing your own food has exploded and the benefits of growing your own food are immense. It reduces your food miles and your food bills which are great for the environment. This new scheme is aimed at schools, allotment holders, community gardens and backyard hobby gardeners. "Grow Organic gives you step by step guidance in getting started on the path to supplying your own tasty seasonal organic food".
Pupils from Scoil Aine in Clondalkin, and Scoil Caitriona in Glasnevin were also present for the launch. For more information on the Grow Organic scheme please go to www.iofga.org
–         ENDS –
For more information contact
Grace Maher
Development Officer IOFGA
Tel 087 6125989