The Portumna Forest Picnic – National Organic Week
IOA Webmaster
IOA are delighted to announce their involvement in the Portumna Forest Picnic on Spetember 12th.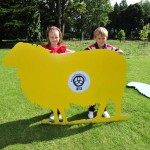 The event is co-ordinated by IOFGA, ICSA and Slow Food and it coincides with National Organic Week which runs until September 19th. The picnic is being held in the spectacular backdrop of the forest with lakeside views and will be free to attend.
Dr. Sinead Neiland Chairperson of IOA stated "IOA are delighted to be involved in this event for National Organic week, especially as it showcases Irish organic produce and producers."
The event has been funded by the Department of Agriculture (Organic Unit) as well as sponsorship from IOFGA, local businesses and those involved in organic production in Ireland.
Event coordinator and executive researcher at the ICSA Gillian Westbrook said "We have received very positive feedback and great support from groups and business in Portumna and the surrounding areas. We hope to make this event into an annual festival with the possibility of hosting similar type events around the Lough Derg region. Portumna Forest Park is a spectacular site with trees that are hundreds of years old and the event promises to have an almost Alice in Wonderland feel to it."