Organic Farm to School Project for Transition Year Students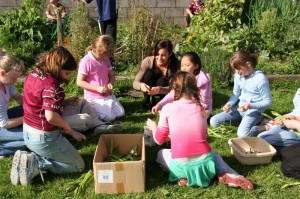 The primary business at IOA is organic certification, and organic processors and retailers. However there is a huge interest in organic gardening among the general public and we have been contacted by many schools and organisations who want to learn about organic gardening.
IOA has developed the Organic Farm to School Project with financial assistance from the Organic Unit of the Department of Agriculture Food and the Marine.  The project works with a small number of secondary level schools and with Transition Year students in those schools. We look at the principles of organic farming, and other components such as climate change, animal welfare, soil and biodiversity. Each participating school is linked with a local organic farm and the farmer visits the school to talk to students about organic farming. Then the students will visit the farm and see first hand what organic farming is all about.
Places are limited on the project but if you are interested please contact grace.maher@irishoa.ie for more information.
WHY GROW ORGANICALLY?
There are many reasons to get involved in growing organically. Horticulture has long been used as a form or occupational therapy and community gardens have illustrated this in many countries.
Extensive studies around the world have shown the importance of getting children involved in food production at a young age. Children who are learning in a garden environment develop practical and tactile skills. They are also more informed about where their food comes from and it helps to develop a deep respect for the food that they consume which stays with them through to adulthood. On a more practical level it provides people access to fresh seasonal food produced in harmony with nature!
More reasons to have an organic garden……
• Great for the environment
• Great for wildlife
• Learn about seasonal food production
• Active hobby that all family members can share
• Good social interaction if you are part of a community garden or garden in an allotment
• Growing your own food reduces your good bill and your food miles
• Great in schools as children really love to get involved and get their hands dirty
• Good for nature good for you