IOA Field Talk Programme for 2017 is announced
IOA Webmaster
IOA are delighted to announce the details for the 2017 Field Talk Programme. This is aimed in particular at members who have recently converted to organic farming so that they can meet other organic farmers and discuss production methods. It is a farmer led programme and a range of farmers will host an event on their farm which consists of a farm walk and an open informal discussion about aspects of organic farming.
It is essential to pre-book your place at the events in order to facilitate everyone, so please call the IOA office on tel 0906 433680 or email john.seery@iofga.org or tricia@iofga.org stating which event you would like to book in for.
Our first event takes place on May 4th on the farm of Tommy Earley in Drumshanbo, Co. Leitrim. All IOA members are welcome to attend any of the Field Talk events listed below, they all start at 2pm!
May 4th – Tommy Earley – Leitrim
Tommy has been farming organically for many years and has made biodiversity a big focus on his farm.
May 29th – Tom Dunne – Laois
Tom won Farmer of the Year in 2016, which was the first time an organic farmer has won the award. His Field Talk event will focus on finishing beef animals, growing your own forage, and being part of a Producer Group.
June 21st – Batt Sheehan – Cork
Batt runs a dairy farm just outside of Fermoy. He will look at grassland management on a dairy farm, he will speak about tillage production and general health of his dairy herd.
July 12th – Desmond Thorpe – Wexford
Desmond and Olive Thorpe have  run a mixed organic farm for many years. This event will look at field scale vegetable production, tillage and livestock.
August 3rd – Alan Jackson – Offaly
Alan grows organic cereals for a variety of markets, he will discuss cereal production and maintaining fertility in a tillage system.
September 11th – Jane Shackleton – Cavan
Jane is a relative new comer to organic farming but her mother Daphne ran the farm previously. Jane farms sheep, cattle and is also involved in alternative farm enterprises.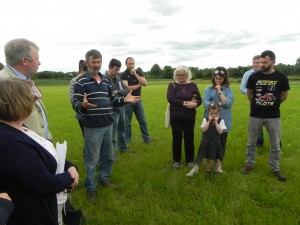 Gerry Kelly talks to visitors at his Field Talk event in June 2016.