Organic recipe of the week – divine shortbread biscuits
IOA Webmaster
This weeks recipe comes from Maeve Cairney, who works with IOA as a processing inspector and also as our Quality Manager.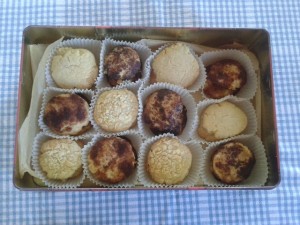 "This recipe came from a cookbook I was given as a gift but I have made my own alterations to it. The biscuits/cookies/bikkies or whatever you want to call them, are great for mid-morning coffee breaks. I also love to make them and give them to people as gifts because you will never buy a biscuit that tastes as good as these" said Maeve.
 ORGANIC INGREDIENTS & QUANTITIES:-
Dough: –        200g unsalted butter, softened
1 teaspoon vanilla sugar
90g caster sugar
270-300g plain flour
Decoration: – Nuts, cinnamon, cocoa, jam, marzipan etc for decoration
 METHOD:-
Beat the butter and sugars together until pale and fluffy. I use a hand mixer for this but make sure the butter is just soft, not melted. To make your own vanilla sugar just put some icing sugar in a jar/tub with a vanilla pod and it can be used from two weeks onwards.
Add the flour through a sieve and work it into a dough. Again, I use a hand mixer for this but with the dough hooks. You could just as easily do it by hand. However, the lightness of the biscuits is directly related to how lightly you handle the dough so don't knead it.
Transfer the dough to a bag and put in the fridge to rest for an hour.
When you remove the dough, preheat the oven to 180°C/Gas Mark 4 and line a couple of baking sheets with parchment.
I usually split the dough into three so that I can do a variety of biscuits and below are some suggestions for the varieties:

Divide one section of dough into small walnut sized balls. Dip the balls into milk and then roll them in cocoa or cinnamon. Place the balls onto the baking sheet and flatten each one gently with a fork, leaving about 1 cm between each one.
Roll out one section of the dough and cut using a shaped cookie cutter. Make a small indentation in the centre of each biscuit and fill it with a tiny amount of jam (any flavor).
Divide the final section of the dough into small walnut sized balls. Insert a small ball of marzipan into the centre of each one. Flatten the balls with a fork and sprinkle crushed almonds on the top.

Bake the biscuits in the oven for approx. 10 minutes until light golden colour. Allow them to cool on the tray for 5 minutes before transferring them to a cooling rack.
Note – the dough will keep in the fridge for a week if you only want to make a few biscuits at a time. Also, the dough can be baked "plain" by rolling and using a cutter or by rolling into small balls and flattening as above. You can coat baked & cooled biscuits with melted chocolate too for another variety….the possibilities are endless