Organic recipe of the week – February 11th
IOA Webmaster
This week's recipe is from Grace Maher and is very versatile and easy to prepare.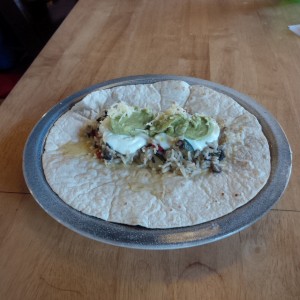 BURRITOS – IRISH STYLE
Burritos are traditionally a Mexican dish that are becoming popular in Ireland in recent years, however it is fair to say that the ones we prepare here are more like the Californian interpretation of the traditional dish. They are a relatively easy dish to cook and a favourite with everyone. They also work great as leftovers. Burritos take about 45 minutes to prepare and cook, and are fantastic when you need something on the table in under an hour. This recipe will feed 6 adults. This is a vegetarian recipe but you can also add in minced organic beef or chicken.
Organic Ingredients
Basmati rice – white or brown
Beans – usually black beans, pinto beans or black eyed peas. Refried beans are commonly used but I have yet to source an organic version and the others work very well
Vegetable stock cube x 1
Garlic x 2 cloves
Onions x 2
Courgettes x 2
Red pepper x 1
Canned sweetcorn (optional)
Tortilla wraps (It is difficult to find organic ones unless in a speciality shop)
Cheese, the mild cheddar from the Little Milk Company works well in this dish
Glenisk crème fraiche
Guacamole Ingredients
Avocados x 2
Garlic x 2 cloves
Cherry tomatoes (optional)
Glug of olive oil
Lemon juice, half a lemon squeezed
Salt and pepper
Tablespoon of crème fraiche
Guacamole preparation method
Place the peeled avocado in a bowl, then the crushed garlic, cherry tomatoes, crème fraiche, olive oil and blitz it with a hand blender, then add in your lemon juice and salt and pepper to taste.
Burrito Preparation method:
First place the rice in the saucepan and bring to the boil, and then let it simmer for approximately 20 minutes until done. Chop the onions, courgettes, peppers sautéing them in olive oil. Place the beans in a pan with the 2 cloves of crushed garlic, add in the stock cube with a litre of boiling water. Allow the beans to simmer slowly for approximately 20 minutes. Once the rice, beans and vegetables are done then place one tortilla on a dry saucepan and cook at a high heat for about 1 minute, then flip it and place grated cheese in the centre and allow the cheese to melt slightly. Then take off the heat and start to layer up your burrito by adding rice, beans and vegetables. Top it off by adding a good serving of guacamole and crème fraiche. Next comes the tricky, which is to fold in one end of the tortilla and then roll it up like a sausage roll, this make take a little bit of practice but not to worry as you can just fold it over and eat it like that!