Organic recipe of the week – Lamb filo pie
IOA Webmaster
This week's recipe comes in from Dominic and Ali at Castewood Farm in Durrow, Co Laois. At Castlewood they produce a range of organic food, including beef, pork and lamb. They also have a great new addition which is a cafe open in the summer months. For more information check them out on www.castlewoodfarm.ie 
Lamb Filo Pie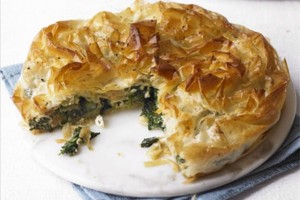 Serves 4
Organic ingredients:
Sunflower oil, for brushing
450g minced lamb
1 onion, sliced
1 garlic clove, crushed
400g can plum tomatoes
2 tbsp chopped fresh mint
1 tsp grated nutmeg
350g young spinach leaves
1 packet filo pastry
1 tsp sesame seeds
Salt and freshly ground pepper
Salad or vegetables to serve
Method:
Preheat oven to 200C/400F/Gas 6. Oil a 22cm/8.5inch round springform tin
Fry the mince and onion without fat in a pan until golden.
Add the garlic, tomatoes, mint, nutmeg and some seasoning. Bring to the boil while stirring. Simmer, stirring occasionally until most of the liquid has evaporated.
Wash the spinach and remove any tough stalks. Cook in the water clinging to the leaves until lightly wilted.
Lightly brush each sheet of filo pastry with oil and lay in overlapping layers in the springform tin. Leave enough over-hang to wrap over the top.
Spoon in the meat and spinach. Wrap the over-hanging pastry over the top to enclose and scrunch it slightly. Sprinkle with sesame seeds.
Bake for 25-39 minutes or until golden and crisp. Serve hot.
Alternatively you can use chicken or fish for this dish.