Organic recipe of the week – Pumpkin, chick pea and coconut curry from Green Earth Organics
IOA Webmaster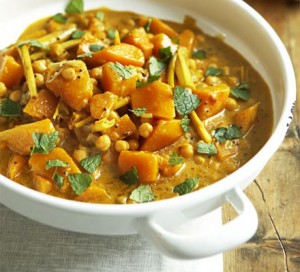 This weeks' recipe comes from chef Killian Hanrahan. He writes weekly recipes for Green Earth Organics who grow fantastic vegetables and fruit in Galway. Recipes are based on what is on offer in the organic vegetable boxes available from Green Earth, who deliver nationwide. For more information see www.greenearthorganics.ie
Thanks Killian for this delicious tasty suggestion using organic ingredients!
Pumpkin, chickpea and coconut curry
Serves 4
Ingredients:
1 medium sized pumpkin, peeled, seeds removed and diced into 3cm chunks
3 medium onions, finely chopped
4 cloves of garlic, peeled and minced
4cm piece of ginger, peeled and finely chopped
1 red chilli, deseeded and finely sliced
2 good sized tbps of coconut oil or splash of olive oil
A bunch of coriander, leaves separated and stalks finely chopped
1 bag of baby spinach, washed
1 tsp mustard seeds
2 tsp cumin seeds
2 tsp turmeric
1 x 400g tin of chopped tomatoes
150g dried chickpeas soaked overnight and cooked  or 2 x 400g tins of chickpeas, rinsed and drained
2 x 400g tins of coconut milk
10 curry leaves
Flaky sea salt and freshly ground pepper
Method:
Place a large pot on high heat, add the coconut oil and then the mustard seeds, when they pop lower the heat. Then add in the onions and cumin seeds, cook until onions are soft and golden brown, adding in garlic, ginger, chilli, coriander stalks and curry leaves and fry until curry leaves become crispy. Add in the turmeric, tomatoes and coconut milk, bring to the boil then add in pumpkin and chickpeas. Turn down the heat to low, cover and simmer for 45 minutes, stirring occasionally, adding more water if it gets dry. Remove the lid and cook for a further 15 minutes until the sauce is nice and thick. Stir in the spinach and coriander leaves. Serve with grain of your choice, naan bread, chutney and dips.