Organic recipe of the week – Seasonal apple sauce
IOA Webmaster
This week's recipe comes in from Jenny Young at Castlefarm Shop in Kildare. It is a lovely versatile recipe and great for using up the last of the windfall apples!
Apple Sauce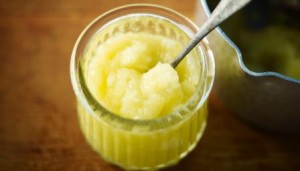 This light, fluffy sauce is a great winter accompaniment to roast pork. but as a vegetarian I serve it with homemade pancakes and our Gouda cheese.
Organic Ingredients 
4 large cooking apples
Juice of one lemon
3 desertspoons of white sugar
1 tablespoon of water
3 cloves
Pinch of sea salt
Method
Peel, core and chop the cooking apples adding the lemon juice, sugar, water, cloves and salt.  Slowly simmer until the apples are soft.  Remove the cloves and mash apple mixture finely with a potato masher.  This can be potted hot into sterilised glass jars and sealed immediately and kept for up to 6 months.