Organic recipe of the week – Tribal Fusion – Salmon fillet, Potato Blini, Slaw
IOA Webmaster
This weeks recipe comes from Conor & Declan at Aramark. Tribal Fusion, Salmon fillet, Potato Blini, Slaw.
It's a starter portion & serves 4 – 6.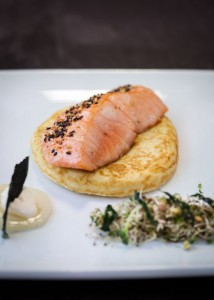 Ingredients:
Rapeseed Oil
Pinch of Sea Salt
4 x 100g skinless fillets of fresh Galway Bay Salmon
1 tsp Wasabi Sesame Seasoning
For the Blini
200g Potatoes peeled and roughly chopped
50g Plain flour
½ tsp Baking Powder
60ml Milk
3 eggs separated
1 tbsp Crème Fraiche
Method
For the Slaw – combine the following ingredients and chill
1 small White Beetroot poached, cooled and finely sliced
1 tbsp of Wild Irish Seaweed Salad
50g Mixed Live Shoots
2 tbsp Crème Fraiche
For the Blini
Boil the potatoes in lightly salted water for 15 minutes or until tender, drain well and mash with the milk. Season and transfer to a bowl and allow to cool.
Sieve flour and baking powder and beat in egg yolks and crème fraiche. Whisk the egg whites until stiff. Using a large spoon gently fold the whites into the potato.
Heat a little oil in a large heavy-based frying pan. Add 3-4 separate tablespoons of the mixture. Fry over a medium heat until set, then turn them over and fry briefly, so that both sides are lightly browned. Remove and keep warm. Repeat the process until all the mixture has been used.
For the Salmon
Pan Fry salmon fillets in a little oil over a medium heat until lightly cooked. Sprinkle with some wasabi sesame seasoning. Place on top of blini and serve with the Slaw.