Irish Organic Oat Business Wins Prestigious EU Organic Award
IOA Webmaster
25/09/23 – The Irish Organic Association wishes to congratulate the Merry Mill, the first Irish organic SME to win an EU Organic Award. The business run by Kevin Scully and family, based in Vicarstown in Co. Laois, was announced as the Best organic food processing SME earlier today. The EU Organic Awards, organised by the EU Institutions, are designed to showcase and recognise entrepreneurial organic farmers and enterprises across Europe.
Gillian Westbrook, Irish Organic Association CEO, said "It is fantastic to see an Irish organic business like the Merry Mill winning such a prestigious EU Organic Award. Over the last number of years Kevin and his family, members of the Irish Organic Association, have worked hard to produce and develop a range of organic oat products from gluten-free porridge to flour sold nationally and internationally. The award also helps to strengthen the reputation of quality Irish organic products at a time when brand Ireland needs to increase and strengthen organic market offerings both at home and abroad."
Westbrook, added "The Merry Mill and the other nominees of this year's EU Organic Awards show that innovative initiatives across the European organic value chain offer inspiration for organic operators to prosper and develop in Ireland. The stories of Kevin and these organic producers and stakeholders demonstrate several opportunities to better place Irish organic produce in the Irish and wider European consumers' consciousness. This will also require Bord Bia, industry and the organic sector to develop the stories behind these products taking advantage of regional branding to build Ireland's green image for the future".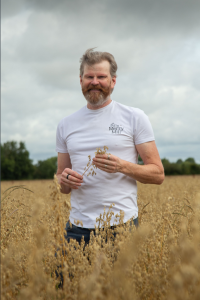 Kevin Scully, farmer, miller and owner of the Merry Mill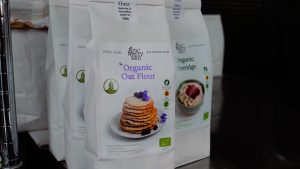 Some of the Merry Mill Product Range
Notes:
For further comment please contact Gillian Westbrook, CEO of the Irish Organic Association at 087 7819967, or by email at gillian.westbrook@irishoa.ie
Listen to Kevin talk about the story of the Merry Mill on our Organic Matters Podcast available here.
The EU Organic Awards aim to recognise excellence across the organic value chain, rewarding the best and most innovative actors in organic production in the EU. They coincide with EU Organic Day, an annual event that takes place on 23 September to raise awareness about organic production in Ireland and Europe.
The awards are jointly organised by the European Commission, the European Committee of the Regions, the European Economic and Social Committee, IFOAM Organics Europe and COPA-COGECA. This year's awards comprised 8 awards across 7 different categories, including best organic farmers, organic food processing SME, organic region, organic city and bio-district.