Organic Porridge Bread Recipe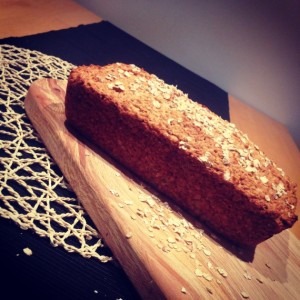 1 x 500g Glenisk organic natural yogurt
2 pots of organic porridge oats
1½ teaspoons bread soda
Pinch of salt
Empty the whole pot of yogurt into a mixing bowl
Wash out and dry the pot
Measure 2 pots of porridge oats using the clean pot and add to the yogurt
Add the bread soda & salt and stir all together.
Put into greased 1lb bread tin & sprinkle with a few porridge oats.
Cook at 180ºC for 40 minutes.
Leave to cool in the tin for a few minutes, use a knife to loosen the bread and turn out onto a cooling rack.
Enjoy!