Organic recipe of the week – Beechlawn Vegetable Roulade
IOA Webmaster
Vegetable Roulade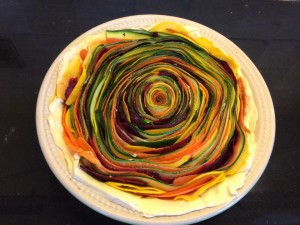 This weeks recipe comes from Beechlawn Organic Farm. This is a cheap tasty and very easy on the eye dish to wow your friends and family with and you can replace any of the veg with any other of your favourite veg that you can peel into strips!
Organic ingredients:
3-4 carrots
2 beetroot (red or mixed rainbow for more colour)
2 courgette
1 yellow squash or sweet potato
puff pastry
Creme fraiche or goats cheese
rosemary or thyme
salt and pepper
olive oil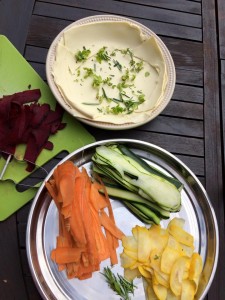 Method:
Wash and peel all your veg  into long strips.
In round pre oiled dish place your Puff Pastry. Put a layer of creme fraiche and sprinkle herbs on top.
Start with your veg strips make a little rose and keep adding strips in a circular pattern, keep them tight and work on a differnt colour veg each strip to create a nice coloured mix, the creme fraiche is like a glue and keep them in place and will absorb all the flavours and moisten the puff pastry.
When you have reached the edge of dish, drizzle with good olive oil and season with salt and pepper.
Place in preheated oven 190-200c for 30 mins until just puff pasty edge is nice and brown, take out and cut slice with very sharp knife.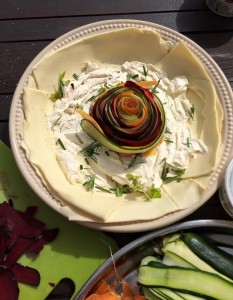 Beechlawn Organic Farm is a family run business in Ballinasloe. They do a box delivery scheme & also supply shops & restaurants. To find out more about them CLICK HERE
or visit their Facebook page by CLICKING HERE