Organic recipe of the week – Bentley's soda bread
IOA Webmaster
Getting soda bread right can be tricky enough, Gillian Westbrook recommends this "foolproof" recipe from Richard Corrigan's book "The Clatter of Forks & Spoons, page 312)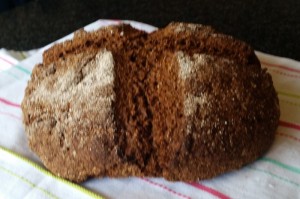 Organic Ingredients:
250g plain flour
10g salt (2 level teaspoons)
15g bicarbonate of soda (3 level teaspoons)
250g wholemeal flour
150g jumbo oat flakes (porridge oats will also work)
1 tablespoon clear honey
1 tablespoon black treacle
500ml buttermilk (or 350ml natural yoghurt & 150ml full fat milk)
Method:
Preheat oven to 200°C / Gas 6. Line a baking sheet with baking parchment
Mix all the dry ingredients together in a bowl. Make a well in centre, then mix in the honey, treacle & buttermilk, working everything together lightly with your hands, until you have loose, wet dough.
With floured hands, shape dough into a round and lift on to the lined baking sheet. Using a knife, mark a cross in the top. Put into oven and bake for around 45 mins (but check after 35 mins), or until the loaf sounds hollow when tapped on the base. Transfer to a wire rack, drape a damp cloth over the top and leave to cool.