Organic recipe of the week – Cheesecake
IOA Webmaster
This week's organic recipe comes from Angela Clarke our Certification Manger. Full of flavor, this light desert is ideal after a warm hearty meal such as Gillian's stew or Grace's burritos.
Chilled Lemon Desert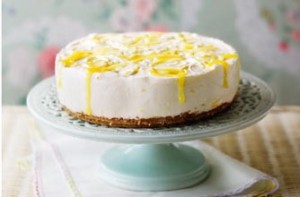 Ingredients:
10 Sheets of gelatine
10 ginger nut biscuits (or biscuits of your choice)
50g organic butter
2 large pots Glenisk organic vanilla yogurt
Finely grated zest and juice of 2 organic lemons
A few drops of lemon extract
A few drops of yellow food colouring (optional)
1 tbs organic sugar
40g organic dark chocolate, melted
Candied lemon peel to decorate
 Preparation method:
Soak the gelatine in a shallow bowl of cold water for 10-12 minutes or until softened. Mix together the crushed biscuits and melted butter and spread into a 20cm springform cake tin and press down with the back of a spoon. Chill for 30 minutes. Pour 150ml boiling water into a measuring jug. Squeeze the water from the softened gelatine, add the gelatine to the jug and stir until dissolved. Allow to cool. Put the cooled gelatine mixture in a food processor with the yogurt, lemon zest and juice, lemon extract, food colouring (if using) and sugar. Beat until smooth and then pour over the biscuit base. Cover and chill for 6-8 hours or until set. Remove the cake from the tin and place on a serving platter. Drizzle with the melted chocolate and decorate with candied lemon peel.
Candied Lemon Peel
Finely zest 2 organic lemons into thin, long strips and place in a small pan with 1 tbsp sugar and 150ml water. Bring to the boil, reduce the heat to low and cook for 10-12 minutes, or until the zest is translucent. Transfer the zest to baking paper until ready to use.