Organic Recipe of the Week – Clanwood Organic Farm Beef Stew
IOA Webmaster
This weeks recipe comes from Clanwood Organic Farm. This recipe is perfect as the evenings are getting colder and is very simple to make.
Clanwood Organic Farm Beef Stew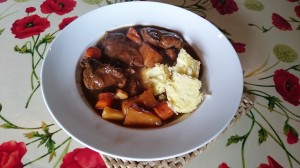 Organic Ingredients:
1kg stewing beef
30g butter
3 onions
4 carrots
2 parsnips
1 stick celery
1L beef stock
Sprigs of thyme
Sea Salt
Black Pepper
Method:
Preheat the oven to 160°C
Melt the butter in the casserole dish and brown the beef pieces until browned all over.
Remove the beef from the dish and sauté the onions, then the rest of the vegetables, adding more butter if necessary.
Add the beef back to the dish, along with the beef stock, thyme, sea salt & black pepper.
Heat until hot, stirring to make sure it doesn't stick to the bottom and transfer to the oven to slow cook for about 2 hours.
If you prefer a thicker sauce, mix a spoon of flour thoroughly in cold water before adding to the stock, and allow it to fully cook through. Otherwise add it before going into the oven.
Serve with creamy mash or potatoes of your choice.
This dish takes very little preparation and tastes so much better if made the day before.
For more info about Clanwood Farm CLICK HERE  or visit their Facebook by CLIKING HERE