Organic Recipe of the week – Coolanowle Organic Beef Bourguignon
IOA Webmaster
This week's recipe comes from Coolanowle Organic Farm. This is a very active organic farming that also has accommodation and a bespoke venue for hosting events. You are sure to get a warm welcome here.
Coolanowle Organic Beef Bourguignon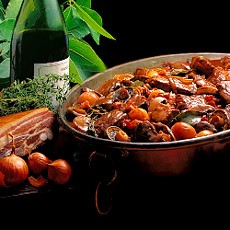 This dish serves 4 people, preparation time is 20 minutes and cooking time is 3 hours. It is a delicious dish of tender beef in a sumptuous red wine sauce.
Organic Ingredients:
¼ cup plain flour
1 teaspoon salt
½ teaspoon ground black pepper
1 kg Coolanowle organic chuck diced beef
4 tablespoons butter
1 onion chopped
1 clove garlic minced
2 chopped carrots
2 cups red wine
1 bay leaf
3 tablespoons chopped fresh parsley
½ teaspoon dried thyme
200 Gms mushrooms
Method:
In a small bowl combine the flour, salt and ground black pepper. Coat the diced beef with this mixture. Melt the butter in a large frying pan over medium high heat. Add the meat and brown well. Pour this into a 2 pint casserole dish. Return the pan to the heat and add the onion, carrots and garlic to it. Sauté for 5 to 10 minutes or until onion is tender. Add the wine, bay leaf, parsley, thyme. Pour over the meat. Bake, covered at 175 °C for 2 ½ hours. Remove cover and add mushrooms and bake for 30 minutes more.
To find out more about Coolanowle Organic Farm click here
To go their Facebook page click here