Organic recipe of the week – creamy smoked salmon pasta with peas
IOA Webmaster
This week's recipe comes from Amanda Doyle our Accounts and Quality Administrator and sounds delicious.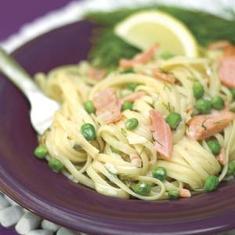 Creamy Smoked Salmon Pasta with Garden Peas
This is a simple and light meal, full of flavour.
Serves 4
300g (11oz) tagliatelle
2 tbsp olive oil
2 handfuls of peas, fresh or frozen
2 garlic cloves, peeled and finely chopped
200g (7oz) Glenisk crème fraîche
A good handful of fresh dill, chopped
Sea salt and freshly ground black pepper
200g (7oz) The Burren Smokehouse sliced smoked salmon, cut into strips
Juice of 1/2 lemon, to serve
Cook the pasta in a large saucepan according to the instructions on the packet.
In the last few minutes of the pasta cooking time, drop in the peas, then drain.
Heat the oil in a large frying pan over a medium heat, add the garlic and fry gently for 1 minute.
Add the crème fraîche and heat through then add the dill and a good pinch of salt and black pepper and stir through.
Finally add the smoked salmon strips and hot tagliatelle and toss everything together until coated.
Serve each portion with a generous squeeze of lemon juice.
Buon appetito!