Organic recipe of the week – Guinness and beef stew
IOA Webmaster
On a wet cold summer's day like today you want food that will warm you from the inside out. This week's recipe promises to do just that, it is a classic Guinness and beef stew and comes from Coolanowle Organic Farm.
Coolanowle Organic Beef and Guinness Stew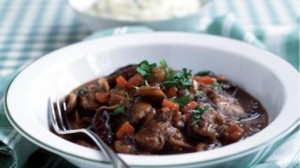 Organic Ingredients: 
900 gm (2 lb) well trimmed Coolanowle Organic diced beef
30 ml Olive Oil
1 onion, chopped
2 leeks, sliced
2 carrots, sliced
2 celery sticks, sliced
2 garlic cloves, finely chopped
300 ml beef stock
150 ml Guinness
50g butter
75g streaky (fat) bacon, trimmed and diced
115g mushrooms, quartered or sliced
50g shallots or small onions, left whole
25g plain flour or corn flour for coeliacs
Salt and ground black pepper
Method:
Heat the oil in a pan, add the meat and brown.  Transfer to a casserole dish. Sauté the vegetables for 5 mins in the pan. Add the vegetables to the meat, and then add garlic. Add the stock, season and add the Guinness. Cover the casserole and bring to the boil, then reduce the heat and simmer for about 1½ hours. Remove the meat from the casserole and strain the cooking liquid and reserve. Discard the vegetables. Clean the casserole and sauté the bacon, mushrooms and shallots or onions in the butter for 5-10 mins. When the vegetables are tender, sprinkle in the flour and cook while stirring over a low heat for 2-3 minutes. If using cornflour mix in a small amount of water and then add to casserole. Slowly blend in the reserved cooking liquid. Return the meat to the casserole, and reheat. Serve with mashed potatoes.