Organic recipe of the week – Just Food peanut butter power museli
IOA Webmaster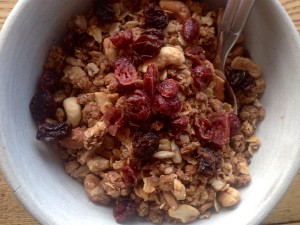 Our recipe this week comes from Deirdre Hilliard from Just Food, the award winning soup and salad company from Cork. You can find their range of products in most supermarkets and retail outlets. This recipe is something that Deirdre uses all the time to satisfy growing appetites!
Just Food Hungry Boy Peanut Butter Power Muesli
I developed this muesli as a tactic to minimise my kids feeling deprived, as a result of my refusal to allow them have a well known "chocolate pop" cereal.
It is not just delicious, but full of good stuff too, and will slowly release energy over the course of a morning at school. This muesli has 8g of protein per 50g serving, plus lots of healthy monounsaturated fats, potassium, calcium, magnesium, B and E vitamins. It has no refined sugar added, with maple syrup used instead, in moderation.
If you have a serving with 200 ml milk, the protein content increases to approx 15g! All ingredients can be sourced organically.
Recipe:
Cals per 50 g : 240 Cals (without milk)
800 g organic jumbo porridge oats
300g peanut butter (smooth or chunky, no sugar added)
150 ml maple syrup
100g each of: flax seeds, sunflower seeds, cashews, almonds
50g each of:  raisins, dried unsweetened cranberries
Method:
Preheat oven to 180 degrees C. Line two large baking trays with greaseproof paper.
Melt the peanut butter with the maple syrup, stirring slowly, in a small saucepan, on a low heat, until mixture is smooth and runny. (Note: this sauce is delicious with ice cream!)
Mix all of the remaining (dry) ingredients in a large bowl, excluding the dried fruit; add the melted peanut butter/maple syrup mixture and mix very thoroughly. The aim is to coat as much of the oat mixture as possible with the runny mixture (this step is critical for taste).
Divide the mixture between the two baking trays, and roast for approx 30 mins, till lightly toasted (may need to rotate trays in oven half way).
Allow to cool in trays, and the dried fruit, and store in airtight container.