Organic recipe of the week – Kinvara smoked salmon quesadillas
IOA Webmaster
This week's recipe comes in from Kinvara, and their delicious smoked salmon tastes great in these quesadillas.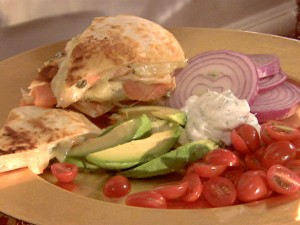 Organic Ingredients:
8 flour tortillas, taco size
141 grams garlic herb cheese, softened
170 grams Kinvara smoked salmon
2 tablespoons capers
110 grams shredded monterey jack cheese (or mild cheddar)
125 ml cup sour cream
1 tablespoon fresh dill, finely chopped
1 avocado, sliced
224 grams cherry tomatoes, halved
1/2 red onion, sliced
Creme fraiche, optional
Method:
Set up grill for direct cooking over medium heat. Oil grate when ready to start cooking.
Lay out 4 tortillas; spread each with half of the herb cheese.
Divide and top each tortilla with Kinvara smoked salmon, capers, and cheese. Top with remaining tortillas. In a small bowl, combine sour cream with dill; set aside. Grill tortillas on hot oiled grill 3 to 4 minutes per side or until cheese has melted. Serve hot topped with sliced avocado, cherry tomatoes, and onion rings. Garnish with creme fraiche.