Organic recipe of the week – lamb shanks with anchovies
IOA Webmaster
This week's recipe comes from Michael Seymour from Sheepwalk Farm, in Co. Tipperary. His recipes coincides with an article in this weeks Farming Independent by IOFGA, on how Michael sells his lamb direct to consumers at the Nenagh Farmers' Market and online.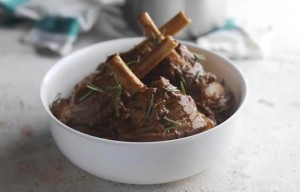 Lamb Shanks with Anchovies 
If you're not a lover of anchovies don't let this put you off. They can't be tasted at the end of cooking but give a lovely deep flavour to the sauce.
Ingredients:
2 x organic lamb shanks
Freshly ground black pepper
1 Tbsp organic olive oil
2 organic onions, roughly chopped
1 clove organic garlic, sliced
4 anchovy fillets, chopped
2 sprigs rosemary
2 bay leaves
250 mls/8 fl oz organic chicken or beef stock
250 mls/8fl oz red wine
Handful fresh parsley, chopped
Method:
Oven temperature: 160 C
Season the lamb shanks with pepper. Brown them in a casserole with a little olive oil.
When the shanks are slightly browned add the roughly chopped onions and garlic. Chop up two of the anchovy fillets and add to the casserole. Tear in the rosemary and bay leaves. Then add the stock and wine and bring to a simmer.
When simmering, put the lid on and bake in the oven for two hours. Turn the shanks half way through the cooking.
Remove the shanks to a serving dish and leave to rest in a warm oven.
Meanwhile tend to the sauce by adding two more chopped anchovies and a handful of parsley. Bring the sauce to the boil, check the seasoning and then pour over the resting lamb shanks and serve.