Organic recipe of the week – Nettle soup
IOA Webmaster
Nettle Soup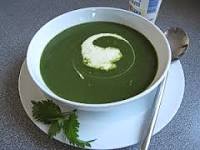 This recipe is quick and easy and full of goodness. The nettles are very high in iron and make a great spinach substitute. Just be careful to wear thick gloves when picking the nettles, be sure to pick young nettles as they are less fibrous. An old Irish wife's tale recommends that you eat nettle soup three times in May in order to purify the blood, so you better get picking!
Organic ingredients:
150g of young nettles
50g butter
3 medium potatoes
1 onion
2 leeks
2 garlic cloves
1 litre of vegetable or chicken stock
Salt and pepper
Method:
Melt the butter in the saucepan and add the onions, garlic and leeks and fry until golden brown. Then add your peeled potatoes and cook stirring gently. Add your washed nettles and the stock. Bring to the boil and then add salt and pepper and simmer for 25 minutes. Blend the soup and add some milk or cream (optional) to serve, alternatively add a drizzle of cream or creme fraiche to serve.