Organic recipe of the week – Roast squash hummus and beetroot hummus
IOA Webmaster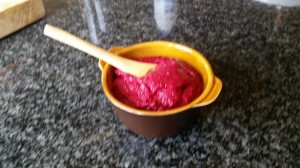 This weeks' recipe is actually two different hummus recipes, these are great healthy snacks ideal in the lunchbox or accompanying a main meal. Also a great way to get some good stuff into kids without them realising it!
ROAST ORGANIC SQUASH HUMMUS
INGREDIENTS
1 medium sized butternut squash cut into wedges
1 and a half tbsp of rapeseed oil
1 tbsp of cream cheese
1 tbsp of ground cumin
1 clove of garlic
Half a lemon, juice only
Half a tsp of tahini paste
Salt and pepper
Method:
Preheat the oven to 190C/375F gas mark 5. Drizzle the wedges of squash with oil and roast in a pre-heated oven until soft, about 30 minutes. Allow to cool a little and then remove the flesh from the peel. It comes away easily once cooked. Combine the cooked squash in a food processor with the cream cheese, cumin, garlic, lemon juice, tahini and blend to a smooth paste. Serve with a handful of toasted pumpkin seeds.
ORGANIC BEETROOT HUMMUS
INGREDIENTS
500g/1lb beetroot
Salt and pepper
Olive oil
2 cloves of garlic peeled and roughly chopped
2 tsp ground cumin
1-2 tbsp pomegranate molasses
1 tbsp tahini
Half a lemon, juice only
Method:
Preheat the oven to 200C/400F or gas mark 6.Rinse the beetroot and trim the leaves if they are still on, but don't be tempted to top and tail the beetroot or the colour will leach. Pat dry and toss in oil in a large baking tray. Season and bake in the preheated oven for about 45 minutes or until the beets are soft but not shrivelled. Allow to cool before peeling (the skin should rub away easily), trimming the root and stalks and chopping roughly. In a food processor, blend the beetroot, garlic and cumin to a paste. Add a tablespoon of pomegranate molasses along with tahini and lemon juice, stirring or pulsing to combine thoroughly. Check the seasoning adding more pomegranate molasses, lemon juice or salt if you feel it is needed.