Organic Recipe of the week – Simple Wakame Salad
IOA Webmaster
This week's recipe is a delicious summer salad that comes in from Wild Irish Sea Vegetables who are based in Clare. They do a great range of Irish seaweeds.
Simple Wakame Salad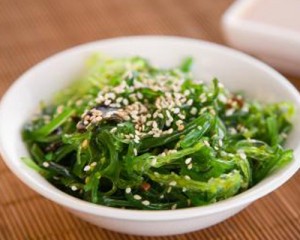 Organic Ingredients:
1 clove of garlic, grated
½ teaspoon of grated ginger
½ an avocado
Bragg's to taste
3 cups greens (sunflower, buckwheat, spinach, lettuce, etc)
1 cup soaked wakame seaweed
optional: tomatoes, walnuts, pecans, almonds or pine nuts
Method:
Grate the ginger and garlic. Mash the avocado, ginger, garlic and Bragg's together in a small bowl. Break greens and wakame up into bite size pieces. Toss all ingredients together and mix thoroughly. Sprinkle seeds on top to taste.
To find out more about Wild Irish Sea Vegetables click here 
or visit their Facebook page click here