Organic recipe of the week – Spanish tortilla
IOA Webmaster
Spanish Tortilla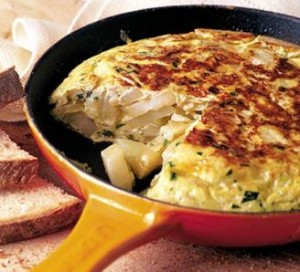 The recipe this week is a tasty light Spanish tortilla, or essentially a posh omelette. It is a very versatile recipe and you can use lots of different ingredients or whatever needs to be used up! Try Butler's organic eggs and taste the difference.
Organic ingredients
1 large white onion, chopped
4tbsp of olive oil
25g butter
100g of mushroom
250g spinach
100g feta cheese
400g of potatoes peeled and sliced
6 garlic cloves
8 Butler's eggs (beaten)
Handful of flat leaved parsley
4 cherry vine tomatoes
Method:
In a large non- stick pan cook the onion slowly in the oil and butter. Add the potatoes and cook with the lid on for 15-20 mins stirring occasionally to prevent sticking. Add the crushed garlic and the beaten eggs. Stir fry the spinach and allow it to wilt down, then add the sliced mushrooms. Add this to the pan and allow it to cook for a further 10 minutes and once the edges are golden put in the crumbled feta cheese, then place the tortilla and pan under the grill for a further 5 minutes to allow it to cook all the way through. You can serve with the tomatoes and chopped parlsey.