Organic recipe of the week – spinach and chili quiche
IOA Webmaster
The recipe this week comes from Gillian Westbrook, IOFGA. Quiche is apparently making a "comeback" like many other dishes considered to be from the 1980's. For those of us who have always liked a great quiche here is a recipe that is a little different as it has a nice kick to it!
Spinach and Chili Quiche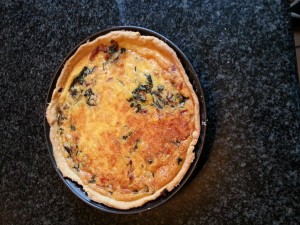 Grease an 8 inch (20cm) flan dish, ones with a removable bottom are best.
Organic ingredients:
Pastry:
4oz (110g) plain flour
2 oz butter (50g)
Pinch of salt
Cold water to mix
Method:
Preheat oven to 350° F (180°C). Mix salt and flour, rub butter into flour. Mix with cold water, a small amount at a time until a firm dough ball forms. Ideally place in airtight bag in fridge for 30 mins to rest but I often use it straight away. Bake blind in oven for 15 mins, use some greaseproof paper and place weight in middle to prevent it lifting – I use dried lentils and keep them for this purpose. Remove from oven and remove greaseproof lining with weight.
Organic ingredients for the filling:
1 small onion – finely chopped
1 fresh chili with seeds removed (optional) – finely chopped
4 oz (100g) grated strong cheese such as Little Milk Company mature cheddar
2 large eggs
10 fl oz (275ml) of double cream (or Greek style natural yoghurt)
Pack of spinach – washed
Freshly milled black pepper and pinch of salt
Method:
Lightly fry chopped onion and chili if used in olive oil – 4 mins on low heat, don't allow to burn. Stir in the packet of spinach, and allow it to wilt in the head of the pan but only for 1 minute at most. Remove from heat. Beat the eggs in a bowl, add the cream and seasoning and finally the cheese. Arrange fried onions and chili on base of flan, pour over egg mixture. Bake for 30 to 40 mins until golden brown on top.