Organic recipe of the week – Summer salad with a fruity twist
IOA Webmaster
This weeks' recipe comes from Julia Bainbridge from New York. Julia is a renowned food writer who is ahead of the posse when it comes to knowing good food. Previously with Bon Appetit and Yahoo Food, Julia is in Dublin this week to find out more about what restaurants in Dublin are doing with organic food. She has a hectic schedule which to date has included fab food at Ely Wine Bar, enjoy the week and meeting some of our great organic producers, and thanks again for the recipe sounds divine!
Summer salad with a fruity twist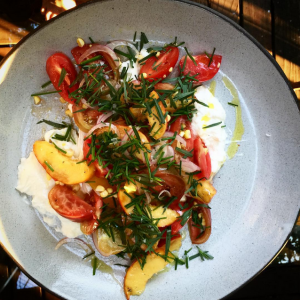 Organic Ingredients
Mild, soft cheese
Corn
Red onion
Heirloom tomatoes
Peaches
Sherry vinegar
Olive oil
Salt and pepper
Herbs of your choice
Method:
Smear a healthy amount of some yummy spreadable cheese onto a platter. I use burrata, (a fresh Italian cheese made from mozzarella and cream. The outer shell is solid mozzarella, while the inside contains both mozzarella and cream, giving it an unusual, soft texture), but anything relatively mild will work. Toss raw corn kernels, thinly sliced red onion, heirloom tomato wedges, and sliced peaches in a mixture of sherry vinegar and olive oil. Season it with salt and pepper. Place vegetable mixture on top of cheese. Finish with chopped chives, tarragon, or other herbs. Give one final drizzling of olive oil. Serve.