Organic recipe of the week – Vegetable Lasagne
IOA Webmaster
This week's recipe comes from Tricia in the IOA office, this recipe makes great use of organic vegetables now in season.
Vegetable Lasagne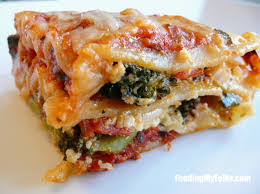 Cooking time 30-35 mins at 200ºC/400º/gas mark 6
Organic Ingredients:
1-2 tablespoons olive oil
3 onions,
3 or 4 carrots,
4 garlic cloves,
2 sticks of celery
1 head of broccoli
200g mushrooms
500g passata
1 teaspoon bouillon powder
Freshly ground black pepper
White sauce ingredients:
50g butter
50g flour
500ml milk
Grated nutmeg
Freshly ground black pepper
6-8 lasagne sheets
Butter for greasing
Grated cheddar
Method:
Pre-heat your oven. Heat the oil in a large heavy saucepan and add the chopped vegetables, onions first.  Fry, stirring occasionally, for 10-15 mins, then add the passata, bouillon powder and pepper. Bring to boil and simmer, covered, for 15-20 minutes.
Meanwhile, make the white sauce: Melt the butter in a saucepan over a medium-low heat. Stir in the flour. Whisk in a little of the milk at a time, stirring continuously until you have a smooth, slightly thick sauce. Add the nutmeg and pepper.
Butter an oven proof dish. Put a layer of the vegetable sauce in the dish and cover with a layer of the white sauce, then put 2 sheets of lasagne on top. Do this at least twice more, finishing with a good layer of the white sauce which covers everything. Sprinkle the grated cheddar on top and bake for 30 – 35 or until it is golden brown.