Organic recipe of the week – Winter beef stew – February 4th 2015
IOA Webmaster
On these cold crisp winter days a great tonic is a hearty warm stew. This recipe from Gillian Westbrook is a little different but is sure to leave everyone feeling more than satisfied.
Winter Beef Stew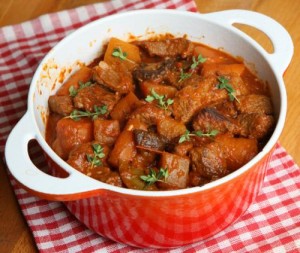 This recipe is a 3 hour slow cook and takes about 25 minutes to prepare. It will feed eight hungry workers when served with mash or brown bread. It's a great dish if you have outside work to do as you can just pop back in half way through cooking time and stir. It costs approximately €3.05 per adult person, the recipe may be reduced or increased. For the reduced option you simply cook for 2.5 hours.
It is cooked in the oven at 150° c for approximately 2.5 to 3 hours.
Organic Ingredients:
Vegetables: Veg simply needs to be roughly chopped, no accurate measures needed. A mix of different veg may be used, but this combination is my particular favourite
1 onion – chopped
3 chopped (not mashed) garlic gloves
1 small or half a bunch celery – chopped 1cm pieces
1 or 2 courgette – chopped
1 bunch ruby chard – chopped
1 small bag of mushrooms – chopped (2 mugs full of chopped mushrooms)
4 biggish tomatoes – or a tin of chopped tomatoes
1 tube of tomato puree
Other:
800g  organic stewing steak
2 to 3 table spoons flour
1 large glass (125ml) port or 200ml red wine or 1 can stout
Half to 1 teaspoon ground black pepper
Up to 500ml stock, (veg or beef)
Olive oil & 1 table spoon butter
Cooking Method:
Heat olive oil in a large frying pan or large saucepan. Except for the mushrooms and tomatoes, lightly fry all the other chopped vegetables on low heat for approximately 10 minutes, stirring often. Add the butter and the mushrooms and cook for 3 minutes, add the chopped tomatoes and tomatoe puree and stir in the stock. Cook for 3 minutes. Remove from heat and place the vegetables into a large casserole dish. Wipe out the pan or saucepan with a tissue, and then add more olive oil on a low heat. Meanwhile place the flour in a bowl with black pepper and add steak pieces, coating the meat in the flour. Add floured meat to the pan and cook just enough to seal the meat, turning meat to prevent over cooking, add more oil if required. Before removing meat from pan, turn off the heat and poor over port/red wine/ stout. Using a wooden spoon, continue to stir for about 3 minutes, lifting the flavours from the pan into the wine by mixing meat juices and flour, stirring all the time as the flour will thicken the sauce.
Poor the meat and sauce into the casserole dish and mix ingredients together. A good extra splash of chosen alcohol is always a good idea at this point. Cover with casserole lid and cook in oven of 2.5 to 3 hours at 150° c. Check half way through and give a stir, if it is getting too dry add more stock and water.