Irish Organic Association celebrates organic producers on EU Organic Day – 23 September
IOA Webmaster
23/09/22 – Today is European Organic Day raising awareness of the benefits that organic food and farming can provide to citizens throughout Europe and beyond. The Irish Organic Association joins farmers, businesses and consumers, in Ireland and across the continent in celebrating the contribution of organics to more sustainable production and consumption as well as highlighting the exciting opportunities that it offers.
Gillian Westbrook, Irish Organic Association CEO, said "European Organic Day is an important occasion to celebrate our Irish organic farmers and businesses across the country and to take inspiration from the wider European organic sector as we look to the future of organics in Ireland. The imminent opening of the Department of Agriculture's new Organic Farming Scheme, backed by enhanced payments, can help to further build Ireland's organic supply base and the Irish Organic Association is engaging with farmers throughout the country who are interested to make the move to organics. There is significant potential for both farmers and business to respond to European and Irish consumer interest in high-quality organic produce, that delivers for climate, the environment, and animal welfare.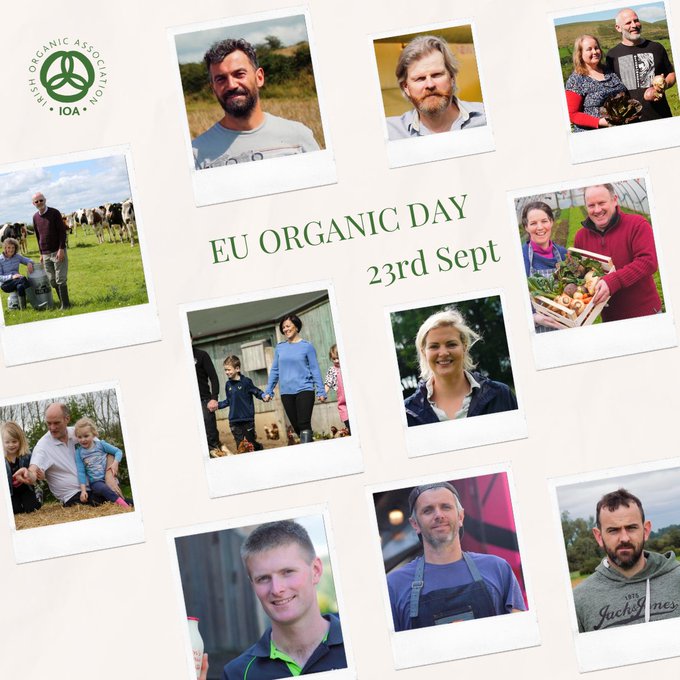 Notes:
For further comment please contact Gillian Westbrook, CEO of the Irish Organic Association at 087 7819967, or by email at gillian.westbrook@irishoa.ie
European Organic Day is an annual event that takes place on 23 September to raise awareness of organic production in Europe. It was established in a joint declaration between the European Commission, Parliament, and the Council as part of one of several actions under the EU's Organic Action Plan. The first EU Organic Awards also take place on European Organic Day 2022. The awards aim to recognise excellence across the organic value chain, rewarding the best and most innovative actors in organic production in the EU.​
The Organic Farming Scheme is operated by the Department of Agriculture, Food and Marine (DAFM), and provides financial support to farmers to encourage the development of the organic supply base. The scheme will open for new applicants from early October until the end of November 2022. Applicants must be registered with an approved organic certification body such as the Irish Organic Association before applying. Further information can be found here.
Interested in conversion? New Farmers can contact the Irish Organic Association on 090 643 3680 or email info@irishoa.ie to talk through the process with a member of our friendly team. More details are available through our website or to register for an organic workshop coming to a venue near you Text ORGANIC followed by your Name, County and Email to 51444.
According to the Research Institute of Organic Agriculture (FiBL), European demand for organic food more than doubled between 2011 and 2020. Five of Ireland's key export destinations for organics namely; France, Germany Italy, the Netherlands and the UK represented over two-thirds of the European organic food retail sales in 2020. Reporting from Bord Bia in 2021 estimated that the value of the Irish organic market up to 2025 will grow by about 9% annually.